Own is not just a skin care company, it's a skin health company. Own is an anti-aging skin health company that believes in empowering beautiful skin. Own's complete approach towards skin-health combines effective, pure, safe formulations with personalized tools and content that when combined together enable you to 'own' your skin's health like never before. Own's anti-aging products use patented CLA technology to work on all three signs of aging.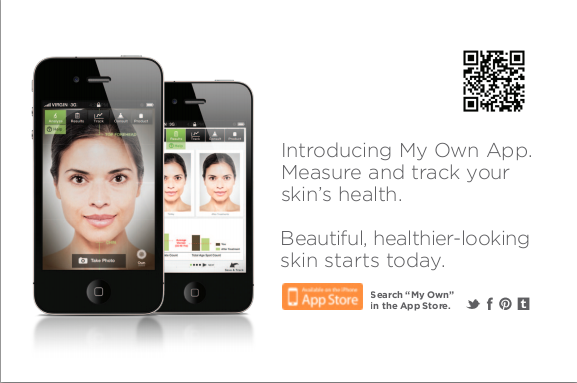 Content and/or other value provided by our partner, Own.
To begin, there is a great diagnostic tool available called My Own. This easy to use app combines facial recognition technology with clinical facial assessment tools to give you an honest assessment your skin's current situation based on the five signs of aging. Based on your results, Own can provide you with a personalized product regimen and relevant lifestyle tips that help you achieve long lasting beautiful skin. To try the app yourself, just click this
Link to Download My Own App
.
Here's how it works:
1) Simply take a photo of your face with the My Own. Using never-before-available facial recognition technology, this diagnostic tool will then provide you with beauty statistics helping you evaluate your skin's needs.
2) In five to fifteen minutes, My Own analyzes your face for the following measurements:
Number of fine lines & wrinkles,
Number of deep set wrinkles,
Number of wrinkles associated with crow's feet,
Percentage of total face covered with age spots (hyper-pigmentation)
Number of total age spots, and
The variance of the age-spots/hyper-pigmentation from your natural skin tone
3) You will also receive an helpful evaluation of your skin's health compared to other women within your age group. You'll then receive a projection of what your skin could look like based on real clinical results of women who used Own's anti-aging CLA based regimen. Further, Own will recommend personalized skin care tips and tools based on your personalized evaluation that empower you to take control of your skin's health.
So once you have the results, you will be ready to try Own products. I reviewed five of the products from the Renewing Line.
One of my favorites is the
Own Rejuvenating Cleanser
. Refresh your skin with this non-foaming formula that reveals a smoother complexion hidden underneath. It is developed with glycolic acid and vitamin E. It gently exfoliates and leaves skin ready for maximum results. Combine this fantastic cleanser with the other products in the renewing line and your skin will change.
I also love the
Own Dual Protecting SPF30 Day Lotion
. It offers the protective power of zinc oxide and titanium dioxide to create a mineral UV shield that protects skin from damaging elements throughout the day. Active ingredients Barley and Sandalwood extracts strengthen the skin's moisture barrier. I love that the light, non-greasy formula absorbs quickly. Therefore, it is easy to wear under makeup.
Be sure to also check out the rest of the products in the
Own Renewing Line
for improved skin health, inside and out. Just start with their easy app mentioned above to receive your personal product recommendations.
Connect
::
Visit Own to
learn more about pure, effective anti-aging skin care.
You can also find them on
Facebook
and
Twitter
.
Buy It ::
Own Renewing Skin Care Products can be purchased at ownproducts.com.
Save 30% on today's purchase by using the promo code CLATODAY at checkout on ownproducts.com!
Disclosure: I did not receive any financial compensation for this post. All opinions are my own and uninfluenced by anyone else. I did receive free product(s) to facilitate my review from the company or their PR agency. See my full
disclosure
.