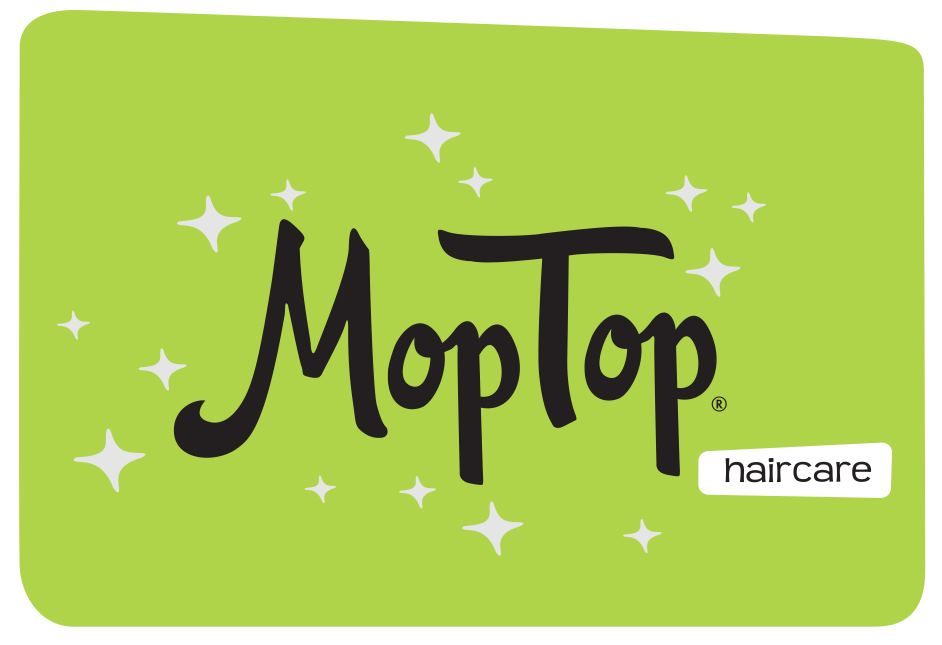 I have naturally wavy hair (that I secretly wish was super curly). While my friends were always straightening their hair every single day, I was embracing my waves.
MopTop Haircare
was created to change the world one "frizzy" head at a time. The founder Kelly Foreman struggled with dry, frizzy and unruly hair all of her life. She decided to study and solve the problems that her frizzy hair brought her. She found the perfect formulas and created MopTop Inc. Now she is dedicated to teaching kids, teens and adults to embrace their natural beauty and manage frizz. I received the Travel Kit and the Leave-It-In Conditioner for review.
Travel Kit :: Includes a plastic snapped pouch with 2oz each of:
Gentle Shampoo :: This product is for ALL hair types. 
Daily Conditioner :: This product is for dry, frizzy or kinky-coily hair. 
Detangler & Refresher Spray :: This product is for use on wet or dry hair to restore moisture and manageability or to refresh your hairstyle. 
Light Hold Anti-Frizz Gel :: This is a lightweight, non-oily gel that smoothes and softens dull, frizzy and kinky-coily hair. Use this gel to enhance your natural hair with a light hold and maintain a lightweight feel without being crunchy.
These products hydrates efficiently by increasing the absorption rate through hair layers. They also penetrate the hair, which builds up the moisture content and helps prevent split ends. They restore moisture and manageability. They are made with natural humectants and rich conditioning botanicals. They protect and tame hair using sea botanicals and honey.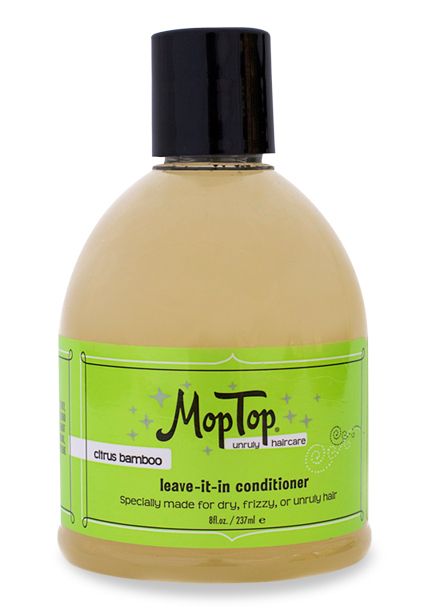 Leave-It-In Conditioner :: This product is for use in wet or dry hair to restore moisture and manageability or to refresh your hairstyle. It is perfect to use when you don't have time for the whole beautification process! Re-activate your hair and style as usual. After washing and conditioning my hair, I applied this while still in the shower. Then I combed it through with a wide tooth comb. It worked great for detangling! My favorite part was probably the smell. The citrus bamboo smell is fantastic! I also loved how it did not weigh my hair down.

After washing and conditioning my hair, this is how I used the MopTop products to style my hair:
I applied just a dime sized amount of Light Hold Anti-Frizz Gel. I found out that a little goes a long way. I applied it in sections, making sure that each section of my hair received the product.
I scrunched my hair to distribute the product and also form the waves.
I twisted some of the areas where I have less natural curl.
I twisted some more. Just wrap around your finger then release.
Finally I was ready to:
      5. Dry my hair using a diffuser.
      6. The final result!
I was really happy with the results! I like how MopTop left my hair looking "piecey" and as you can see there is no frizz! It was really easy to use these products and they all smell pretty awesome. My husband commented how great my hair smelled after using it. My waves stayed in for two days. If you are tackling frizzy, kinky-coily hair - you need to check out MopTop! Need a few more reasons? How about these:
There are NO SULFATES in their shampoos.
There are NO INSOLUBLE SILICONES and NO WAXES in any of their products.
Most of their products have NO PARABENS.
MopTop Haircare was made for dry and frizzy hair. It is specially formulated for hair that is color treated, chemically treated, wavy, or curly. In other words, it is not for you straight haired peeps! They have offered one of my lucky readers a chance to win the same products I reviewed!