Are you as organized as you want to be? Not only does Knock Knock put the 
fun
 in 
fun
ctional, they also know their stuff when it comes to organization. Sure you can count on them for witty gifts, funny books, notepads, fun office supplies, and more. But you can also battle chaos on every front with their tools for home organization, running errands, and tidying the office! Knock Knock's beloved
list pads
, stickies, shopping lists, and more help get it down and get it done.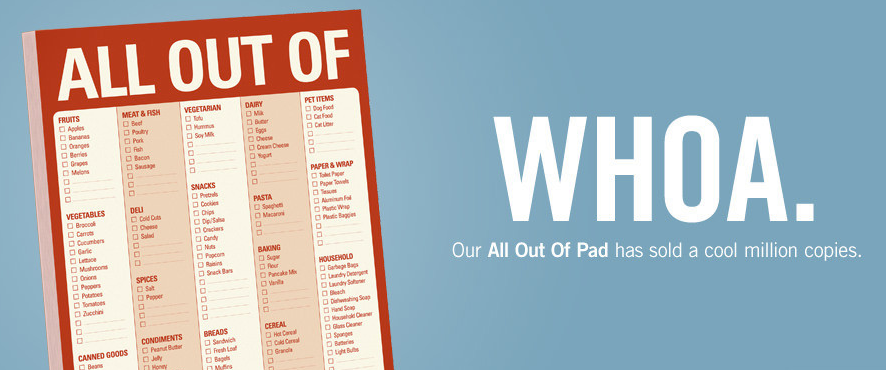 Newsflash :: The oh-so popular
All Out Of Pad
has now sold over million copies! I have a secret to tell you. I hate grocery shopping. I want to just get what I need as fast as I can. Who hasn't wandered blindly at the grocery store, trying to remember what to buy? Wander no more! This perennial favorite lets you check off depleted items as you run out, then replenish with ease and certainty when next you shop. It's magnetic too - so keep it right on your fridge.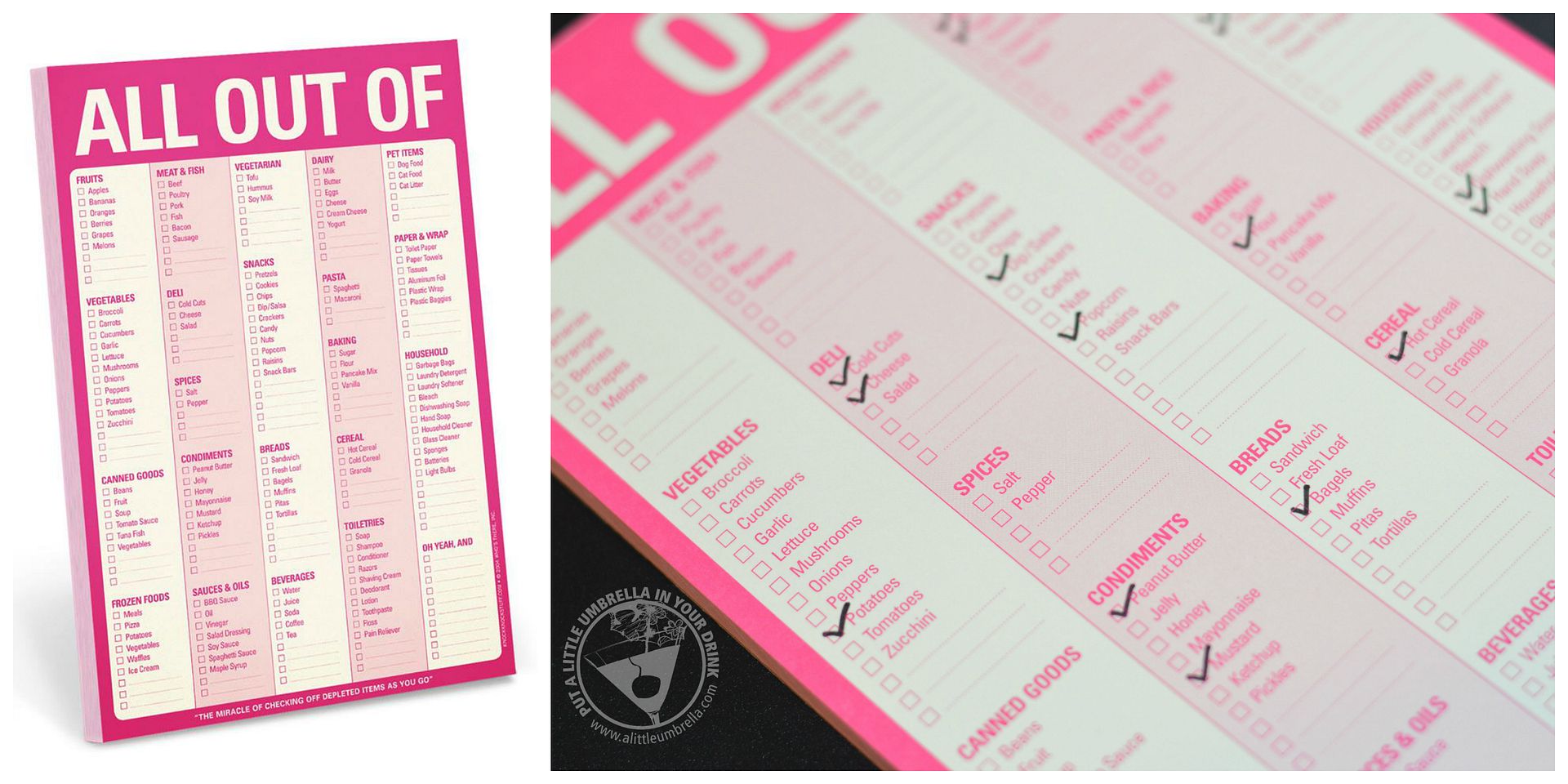 I teach. I blog. I am busy. If I don't write things down, they don't get done. It is just that simple. Don't let yet another 168 hours of your life get away from you.
This Week Pad
lets you organize your daily affairs and monitor the big picture at the same time. You can even get a jump on next week's tasks as you maximize efficiency over and over and over again. There is nothing better than checking things off as you complete them! Done and done.
Finally, the
At Home/At Work Perforated Pad
compliments those of you who need separate to-do lists to divide and conquer. We're looking at you, Clark Kent. You can't be two places at once, but this magic pad can. At first glance, it's an ordinary list for home and work. But wait! Look closer and tear. Yep, you can tear it in half when you are ready to divide and conquer.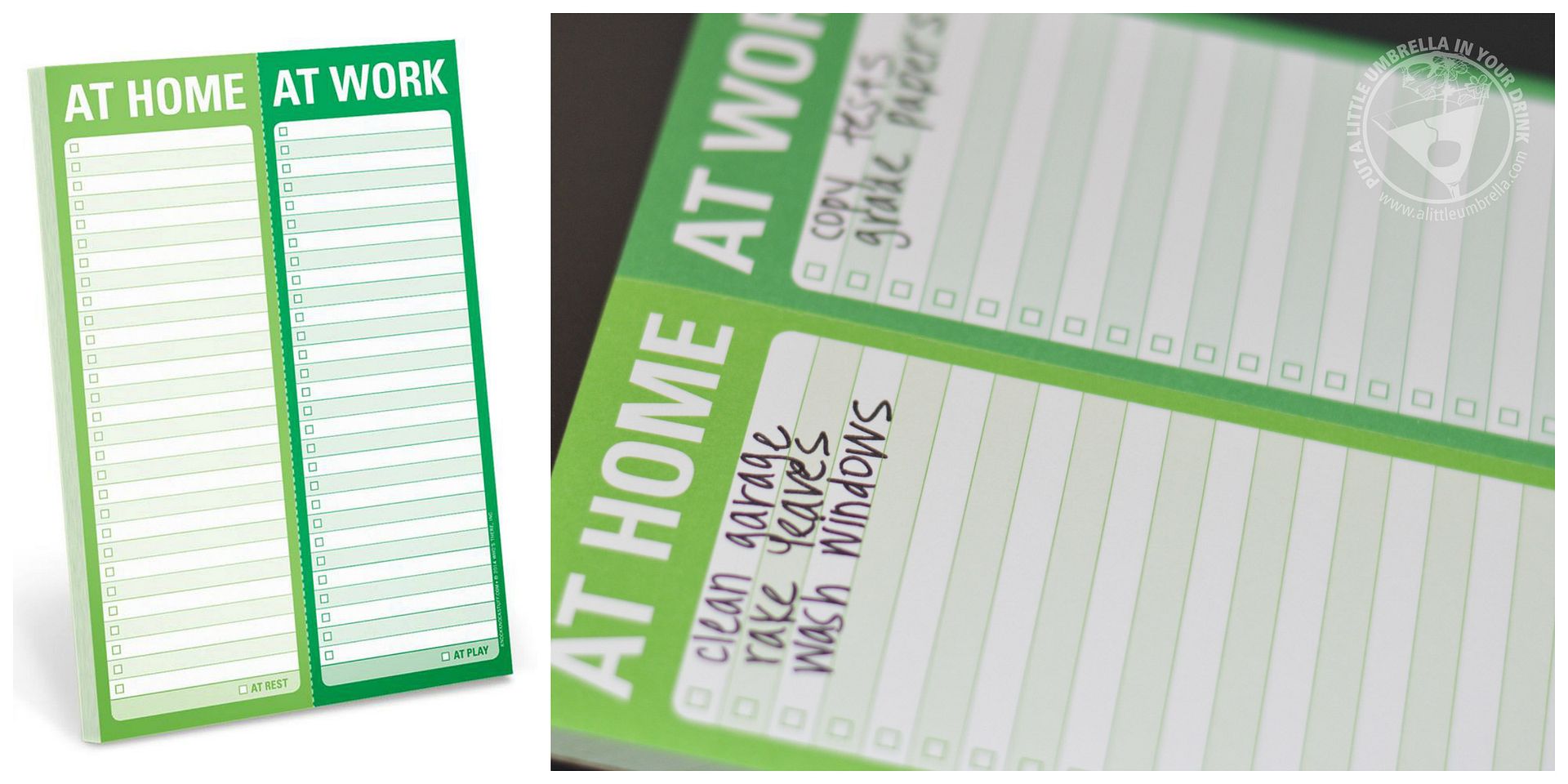 Sometimes a very well thought out pad is all you need to keep your life moving along nicely.
Knock Knock
really knocks it out of the park with their savvy selection of stationery, notepads, sticky notes, and more. I dare you not to find great organizational items, fun novelty products, and just plain cool gifts.